Located in the Heart of Honolulu
Sun Splash is located along side Jamba Juice with FREE parking in rear of the building, which is also where our entrance is. We are in the heart of Honolulu near Diamondhead so if you're looking for a spray tan near Waikiki, red light therapy in Honolulu, or a great indoor tan anywhere on Oahu, come to Sun Splash Tans. Sun Splash is the ONLY salon in Hawaii to have 5 different levels of tanning beds, spray tanning, and red light therapy ensuring you will find something that fits your needs no matter where you are on Oahu.
We are Temporarily Closed Due to Coronavirus
We anticipate reopening as soon as it is safe to do so. Those with memberships will not be charged while we are closed and those with groups of tans will have the expiration date extended by an equal number of days that we are closed. We deeply appreciate everyone's cooperation and patience during this challenging time and we hope to see you again soon!
Thanks you,
Marc Rapoza
Manager

625 Kapahulu Ave, Honolulu, HI 96815,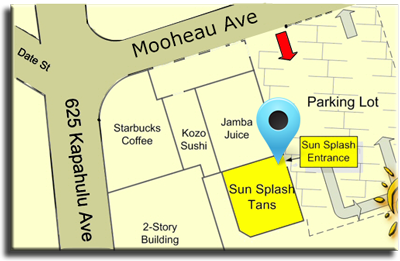 
OPEN 7 DAYS A WEEK: 09:00 a.m. – 9:00 p.m.
Closed on the following Federal Holidays
January 1st (New Year's Day)
Memorial Day
July 4th (Independence Day)
Labor Day
Thanksgiving Day
Christmas Eve (Open from 9 a.m. to 2 p.m.)
Christmas Day
New Year's Eve (Open from 9 a.m. to 5 p.m.)
Other State and Salon Holidays as Posted in Salon