Sun Splash has been doing competition spray tans FAR longer than anyone in Hawaii. We have had winners in EVERY MAJOR SHOW since 2004. Our facilities are first-class with large mirrors, spacious rooms, and proper lighting to mimic what you'll find at a show. We are grateful to have the biggest names in the industry choose us for their tanning needs.
We understand that being a competitor in bodybuilding competitions means your needs are much different than that of the average tanner. That's why we carry the leading brands you need to achieve your darkest competition spray tan color possible, including Jan Tana and Pro Tan. Not only that, but we have high pressure tanning machines that will leave you MUCH darker tan than is possible from the beach or with traditional beds so if your goal is to be as dark as possible, we are your one-stop shop.
Indoor Tanning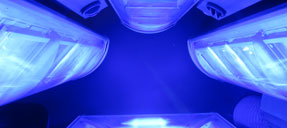 Have a few weeks before your competition? Doing some high-pressure tanning sessions is going to take you well past your normal tanning potential and will last you much longer than a spray.
Sunless Tanning
Doing Both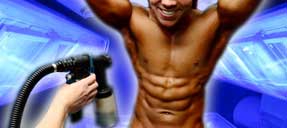 Most serious competitors do both Sun Tanning AND Sunless Spray Tans. If you're not sure what's right for you, feel free to call us and we would be glad to help you in any way we can.
Why tan at all?
Simply put, the darker you are, the more definition you show. When combined with the intense white lights that often mask your true definition, "bodybuilder" tanning needs are very different. Your everyday-dark tan simply isn't enough. In fact, by the time you get on stage to compete, you may feel uncomfortably and unnaturally dark. This is normal, but rest assured that once you see the pictures after the show, you'll be glad you were so dark. If you've ever seen a profession bodybuilding competition, such as Mr. Olympia, it is easy to notice how dark all the competitors are. The general rule is that there's no such thing as too tan when competing in a bodybuilding competition. But what type of tanning should you do? Below we outline your choices.
Indoor Tanning for Bodybuilders
A regular tan will last you about a month and it takes about two weeks to ramp up. Generally, that means you should start UV-tanning (such as in a tanning bed) somewhere between one month to six weeks before the competition. As a competitor, you have to be more thorough about tan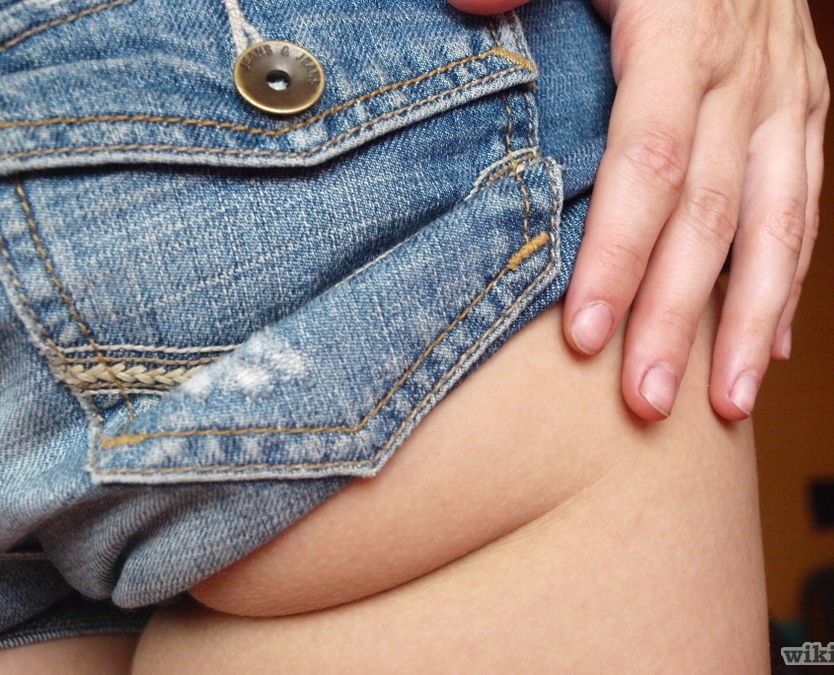 ning places that most others can ignore. For example, you have to keeps your arms up more than usual while tanning since keeping them down will give you a tan line under your arm pits. Another problem-area can be where the butt and leg meet. This area often has a little crease. When posing, this subtle spot becomes painfully visible. In general, you will need NO visible tan lines when competing, so give yourself enough time to even out and get dark.
Spray Tanning for Bodybuilders. How Many?
Spray tanning is something that is unavoidable for competitors. It doesn't matter if you're an Irish, African American, or a Hawaiian person doing a bikini, figure, physique, or any other class; you simply cannot naturally achieve the color you need for the competition without a spray. The question isn't about whether or not you need a spray, but most often about how many. If you plan to get a spray the morning of the show and you've done your pre-competition sun tanning, you might be able to get away with two sprays prior to the big day. If you plan to shower before going on stage (meaning you have no spray-bronzer on you), you will likely want to get at least four sprays prior to competition day. When possible, we recommend doing a spray on the day of your competition regardless of how many sprays you have had.
Doing Both Indoor Tanning & Competition Spray Tanning
Doing just indoor tanning or just spray tanning will unlikely give you results you want. For example, if you only did indoor tanning, you will unlikely be dark enough for the competition. And while spray tanning alone might make you dark enough, it is unlikely that it will cover all of the tan lines you had before and may require extra spray tans to achieve the darkness you need to be competitive.
5 Tanning Timeline Tips
Five Tanning Tips to help you prepare for your bodybuilding competition:
Six Weeks to 1 Week

 — Tan indoors making sure you're all one color with no visible tan lines when wearing your competition-clothes. The last few days before the competition get very busy and you'll be low on energy, so book your spray appointments (for you sunless tans) at least 6 weeks in advance to get the times that best fit your schedule.

Seven Days to 4 Days Prior

— Exfoliate your skin extremely well. The more dead layers you scrub off, the more your skin will glow and the deeper into your skin the sunless will get.

Three Days to 1 Day Prior

— Stop exfoliating and do your sunless tans. It is very common to get a spray in the morning and then again in the evening the day before the show. Decide if you plan to rinse off those sprays or keep them on for the competition. Be ready with a backup-plan (such as a touch-up kit) and know how to use it. Expect to do between 2 to 4 sprays.

The Day of the Show

— Spray the morning of the competition with a day-of-spray color, such as "Jan Tana Ultra" and again be careful around water. If you've used a lot of diuretics and deprived yourself of lots of water, your body chemistry may be unusually acidic meaning your color might start to take on a greenish tint by the end of the day. If you fall into this category, apply a pH balancing product. To minimize this problem, stay in a cool, low humidity environment once a spray is applied until after the show is finished. If unsure, give us a call for help. Even if we didn't spray you, we will be glad to assist.

Day AFTER the Show

— Eat pizza. Your spray will still be with you for about a week. Exfoliating aggressively will help it fade more quickly, but mostly time will fade it away.
How Much is a Competition Spray Tan?
Whether you need just one competition spray or six, we have you covered. Each spray we perform comes with two coats ensuring the best color possible. We offer several options for in-salon pre-show sprays, such as single sessions and groups. Our most popular package is our 2-spray pre-show package performed at our salon. We are also available for on-site sprays and often sponsor bodybuilding events. For a full list of current prices and to find out if we will be at your bodybuilding event, call the salon at 1-808-735-3777. Sprays are generally done using Jan Tana or comparable competition colors. If you have your own spray or prefer a different brand, let one of our well-trained staff know.
Competition Tanning Frequently Asked Questions
Should I shower off my spray tan before I go on stage?

The decision to shower before going on stage depends on a few factors, such as how dark you are, how dark you need to be, and how easily you sweat. Not all categories require the same darkness, though the general rule is there's no such thing as too dark. Most manufacturers recommend NOT showering prior to going on stage, though it is very common for competitors who get more than two sprays to lightly rinse off (using water only) all sprays EXCEPT the night before and morning of the show. Keeping the extra bronzer from spray tans will make you significantly darker. However, if you plan to go on stage without rinsing off, use extra care when drinking, urinating, sleeping, or coming into contact with anything that might smear your tan.

If you don't need to be as dark or if you've done lots of pre-show tanning and sprays then rinsing off (with water only) before the show will make the show easier since you don't have to worry about smears or tiny imperfections that sometimes creep up.

If you sweat a lot then not rinsing your spray tanning bronzer off becomes extra tricky. For some, the stress of being on stage will greatly increase your likelihood of sweating and when combined with the heat from the bright stage-lights, you may find the idea of rinsing off to be very tempting. There are no simple tricks to avoid sweating, but the time you spend on stage is generally very short meaning even if you do start to sweat, you may be able to get through your routine before it becomes noticeable or problematic.

If you are unsure, check with your coach or competitor-friends for some guidance on how dark you should be and if you should rinse off or not or consider doing some test sprays several weeks before your competition.

How can I protect my spray tan from smears and imperfections?

Protecting your spray tan comes with practice. Trial-and-error are going to be your best teachers. However, there are a few things to avoid. Firstly, don't sweat or get wet. That means stay in a cool environment and use extra caution when drinking and urinating. After you get sprayed, wear loose clothing. Even clothes with strong elastic rubber belts, such as what you find on some sweat pants, can be problematic by leaving lines around your waist. An oversized t-shirt and loose sweats are ideal so long as they are not too tight or rubbing anywhere. If you are going to be sleeping in your spray tan, use the same loose clothing. While sleeping, we tend to move around and touch more than we realize, so covering your skin minimizing the chance of a random handprint or touch-point showing somewhere.

What do I do if my spray tan smears or somehow gets messed up?

By the morning of the competition, many competitors are very stressed and every little thing takes on an unusual intensity. If your spray tan gets smeared then the first thing to keep in mind is not to panic. In most cases your spray tan is easily fixed. If you have an on-site spray scheduled then simply show up at your appointment as usual and get your spray. If a professional spray product (like those carried by Sun Splash Tans) is used, hand prints, water drips, or most any other minor imperfection will be covered during your on-site spray (even when only sprayed lightly).

If you don't have an onsite spray scheduled for the morning of the show, bring a touch-up kit that matches the brand and color spray you got. For example, if you got a Pro Tan Competition spray, don't use Jan Tana to touch up since the tones and bronzers will be different. Apply your touch-up using a sponge or soft cloth in a dabbing–not rubbing–manner. When the touch-up is first applied, it won't match. Give it five to ten minutes to dry and the colors should match much better.

If your spray has turned green, then some extra steps may be needed. Due to imbalances from diuretics, exfoliation, and even just stress, your body chemistry can be altered in such a way (usually becoming too acidic) that your body metabolizes your spray differently resulting in a green-ish tint. If you fall into this category, your best choice is to either wash off your spray completely and get a full respray or to apply a pH balancing product. Sun Splash carries several products to help with this phenomenon should you decide NOT to rinse off your spray.

Should I put concealer (make up) on my tattoos before I get a spray?

Tattoos can be distracting and can mask your definition. However, applying a concealer can also introduce problems since the color may not match the rest of your tan and concealer can easily get messy. Smaller tattoos in non-essential places are usually not a problem for regional events. For professional events, it is best to check with judges or an experienced coach for guidance. If tattoo concealer is needed, you may find it's best to buy the brand that matches your spray tan color. For example, if you expect to get sprayed with Jan Tana then tattoo cover-up from Jan Tana is likely going to be your closest match. If unsure, we recommend doing a test spot of concealer and spray prior to your competition.

Will I turn green?

It seems every competition we see someone with a greenish tint to the skin. The active ingredient in most spray tans is organic. That means it is sensitive to your body chemistry and anything you do to alter your body's chemistry may result in a change in the way your tan develops. For example, aggressively scrubbing your skin (exfoliating) prior to a spray strips away your body's normal oils and may make it too acidic. This is why you should never exfoliate the two days prior to starting your sprays and never exfoliate on show day. Also, using lots of diuretics and depriving yourself of lots of water may alter your body's chemistry making it unusually acidic. This will make your color start to take on a greenish tint by the end of the day.

Even if you do everything right, some people's skin is naturally more acidic and even if you wash off your spray tan, you'll notice your skin has a mild greenish tint to it on competition day. If you fall into this rare category and have time, you may find it best to rinse off your spray with cool water and respray being sure to apply a pH balancing product. While respraying will definitely help, you may find it isn't practical. If you don't have time or a place to shower, a quick spray of a pH balancing product alone generally makes the tan look fresh and may be enough. If you decide to respray, be sure to inquire about a pH balancing product anyway since by the end of the day it is possible your acidic skin might again start to get a green tint. If you feel you are in a high-risk category for "green" then let us know before you get your spray and we can apply a prespray pH balancing product. If you do start to turn green, Sun Splash offers several products to help, so be sure to call us if you need help.

Will I turn orange?

An orange-looking tint to a tan can be due to many factors. However, "orange" most often happens when a low-quality spray is used, when an old spray solution is used, or when the competitor is very pale. At Sun Splash, we generally order our spray solutions just prior to a show ensuring it is always fresh and we only use the highest quality brands. Even with a fresh product, the more naturally light-skinned you are, the more prone you are to turning orange. The darkening ingredient in competition spray tans is especially high due to the need for competitors to be especially dark, which creates added risk.

If you are unusually pale, it is strongly recommended that you UV tan in the weeks leading up to your competition to give you a good base tan to spray on. If you fear you may still be too pale, it is best to schedule more spray tans than usual. For example, the average competitor may get just two sprays and leave the second spray on for the show. However, if you are extra pale, you may want to get 4 sprays over the course of 2 or 3 days so you can build up your color gradually while still keeping it natural looking. Applying too much spray at one time greatly increases the risk of your color looking more orange. If unsure, come into the salon and we can make a recommendation after seeing your skin tone or take our online skin type test. If you are skin type 3 or lower, you may want to consider extra sprays.

How long will my spray last? Can I use it for 2 shows?

Spray tans gradually fade off over about a week meaning the day after your spray you will be your darkest and by the 7th day it is generally gone. However, competition sprays come with A LOT of bronzer. This extra color can make you look significantly darker, which can help you look significantly more fit and defined. This is also why people usually get their last spray the day before or the day of a competition.

This bronzer is NOT your skin color. The first time you shower after getting sprayed, you are going to lose that bronzer color and your spray is going to start to look more like (though still different) than a regular non-competition spray. The bronzer in competition spray tans does NOT hold up well over time meaning if you have another competition even just two days away, you should shower the old one off and get a fresh spray prior to that date.

What else should I know?

No matter how well you prepare, there will always be more that you could have done. There are so many details that even experienced professionals struggle at times, so don't be too hard on yourself. The best tip of all is to bring a friend with you. Ideally that friend is someone who is familiar with the bodybuilding competition environment. However, even a friend who knows nothing at all about bodybuilding will help you stay focused and can help with all the little things that you didn't even realize you needed.
Can't find what you're looking for? Ask us!