Indoor Tanning Memberships
The Cheapest way to Stay Tan!
The following are just a few of the options Splash Tans offers. Prices are grouped into different levels based on the intensity of the tanning bed. To learn more about the different beds and their distinctive features, visit our sun tanning page. For a complete list of package options, limitations, and current prices, please visit us in the salon.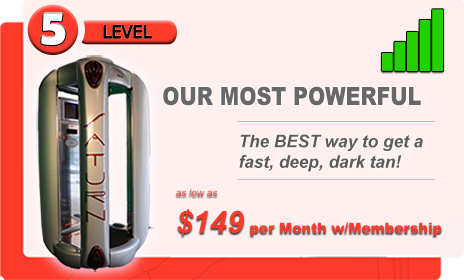 Under $10/Session
(BEST VALUE!)
~$5.25/Tan
~$4/Tan
~$3.25/Tan
~$2.50/Tan
Non-Membership & Single Session Indoor Tanning Prices
Ideal for those who tan once a week or less
Level 5
Buy 5: $160 ($32/Tan)
Buy 10: $260 ($26/Tan)
1 Month: $199 ($13.27/Tan)
Level 4
Buy 5: $105 ($21/Tan)
Buy 10: $160 ($16/Tan)
1 Month: $139 ($9.27/Tan)
Level 3
Buy 5: $85  ($17/Tan)
Buy 10: $130 ($13/Tan)
1 Month: $99  ($6.60/Tan)
Level 2
Buy 5: $65   ($13/Tan)
Buy 10: $100 ($10/Tan)
1 Month: $89   ($5.93/Tan)
Level 1
Buy 5: $45    ($9/Tan)
Buy 10: $70    ($7/Tan)
1 Month: $69   ($4.60/Tan)
Here at Sun Splash, we understand that you want to get the most out of every visit. As such, we change the lamps in our machines far more often than is recommended by the manufacturers. New lamps mean you get the best tan possible. Sun Splash also carries equipment that is far superior to what is found in typical salons meaning more comfort and better results. Having five different levels means no matter what you're looking for, we have a package at a price that works for you.